How long has it been since I last published a blog post? It was before last Christmas certainly, and I don't think I'd been particularly prolific for a while before that either. SO much has happened since then, as we all know. The Covid-19 pandemic has changed the way most of us live our lives, and has affected us all to a lesser or greater extent (high five to all the parents out there who've been homeschooling!). My soapmaking has remained constant however. Increased, if anything. My customer base has changed of course – wholesale orders dried up completely as soon as the lockdown was announced, and all craft fairs and markets were cancelled. This website however has been my saving grace. It was still under construction last time I posted here but we managed to get it launched last February and thank goodness we did – that's where more or less all my sales have come from over the last 4-5 months. If this is your first time visiting do have a look around before you go and let me know what you think!
With the new website came this new blog. All the old posts have been transferred over to here, and fingers crossed all the subscribers have too, but nothing's certain so I'll press publish with bated breath and see what happens.
The best thing to happen (soap wise!) since I was last here is the change of packaging. I've been wanting to upgrade my packaging for a long time but couldn't settle on what it was I wanted to do. When I started making soap for a local company and saw that they were selling it in beautifully simple paper wrappers, I realised that I could do something similar. I approached a local printers and they designed and printed my current packaging. It's a fantastic solution and as an added bonus, it's fully bilingual, which I've wanted for a while.
Another big change since I was last here is the design of the fragrance oil bars. They used to be all done using the drop swirl technique which, while pretty and distinctive, wasn't something I could keep scaling up as I made more and more bars. I routinely make 6kg batches now, poured into four loaf moulds, and the drop swirl design is just too time consuming to do effectively. I now make all my fragrance oil bars using the 'In the Pot' technique.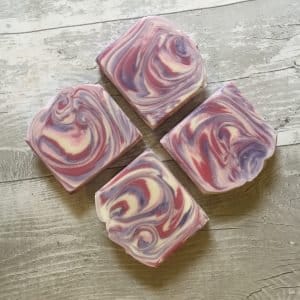 There have been two limited edition releases since I was last here – the Spring Specials and the Summer Specials (no surprises there :-D) –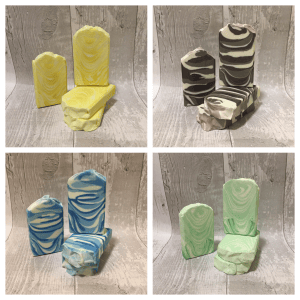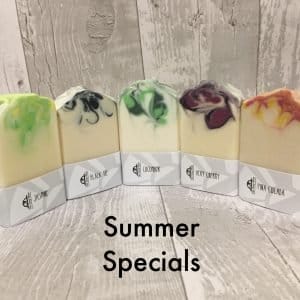 I've just finished making the tester bars for the Autumn Specials: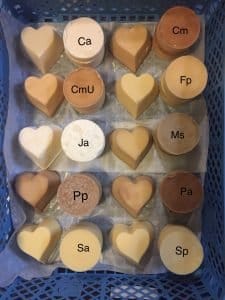 And started gathering together options for Christmas. Well, it is July after all 😉
So there we go – a whistlestop tour of the last 9 months or so. My goal is to get back to weekly posting if possible – maybe something along the lines of the weekly updates that I was doing last year, but it may take me a while to get back into the habit, so bear with me.
Please join me on social media for way more regular soapy updates – just seach for The Soap Mine on Instagram, Facebook & Twitter. We also have an active (and very friendly) facebook community here https://www.facebook.com/groups/841016452928421 where you'll find competitions, giveaways, sneaky peeks and the occasional bit of sillyness 😉