I got back into the swing of making soap this week. Having realised that I need to be making far more to keep up with demand, a new process was required.    Previously I would usually make three different batches during an evening's soaping, once a week, but the new routine is four batches a night, twice a week. By doubling up the batches – ie making two lots of two fragrances, rather than three lots of one, I find I can make the four batches as quickly as three, if not faster.
Wednesday was the first day of the new regime – two lots of Welsh Rose and two lots of Bewitched on the cards.  But, wouldn't you know it, I ran out of lye. Arghhhh – I felt sure I had a second tub but nope…  Nevermind, I had enough for three batches: two Bewitched and one Welsh Rose:
More lye was ordered and arrived within 48 hours, so I was able to make more today – two lots of Oatmeal, Milk & Honey and two of Blodau (Flowers):
I clearly need to have a better handle on inventory.  I do have have the Soapmaker 3 program, which comes highly recommended, but haven't got round to using it yet. :-/ Maybe that should be one of April's goals.
This week I also delivered another couple of batches of 'Ar Lan y Mor' (By the Sea) and Potters' Soap – exclusive fragrances/designs for Glosters in Porthmadog: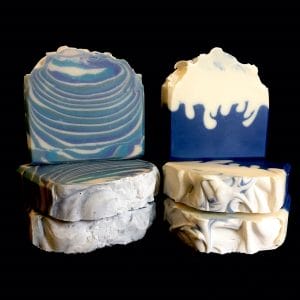 I also finished off wrapping and packaging the mini guest bars for Plas Colwyn Guest House right here in the village – these are just a small selection of them:
We celebrated St David's Day on Wednesday, and as is traditional, I made up a big batch of Teisen Gri (Welsh Cakes) for the village school show.
I've been asked again to share the recipe, so I'm planning on getting that written up this week and posted here on the blog.
This is my little three year old in her traditional 'welsh lady' costume, singing her heart out at the front of the stage. She's normally pretty shy, so it was wonderful to see her enjoying her moment in the limelight…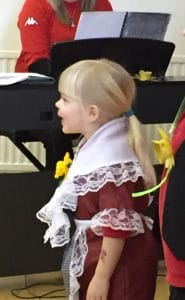 I also managed to get out for ONE run this week – 5km on Friday morning. If you saw the post about my goals for March, you'll know that I want to run at least 30km this month. Easily doable, IF I can get my running mojo back where it was in January. Throw some motivation my way?