Yesterday (Saturday) brought the first craft fair of the year, and a lot of last week was spent wrapping and labelling in preparation.  It also saw the first outing for my bathbombs, which are FINALLY available for sale. I've been so busy dispatching wholesale orders and restocking the curing shelves that creating labels for my bathbombs was never a priority – until the night before the craft fair 😮  I took just four varieties – Clarity, Serenity, Lavender and Bewitched (was LoveSpell):
I was busy Mon, Tues, Wed evenings this week, so couldn't make soap until Thursday night, and then realised that I was so low on Olive Oil I could only make a two batches of Boho Baby (fragranced with Patchouli & Orange essential oils):
Friday evening was spent wrapping bathbombs for the fair on Saturday, so I wasn't able to make more until this evening, but I made up with it with two double batches of Serenity (Patchouli, Ylang Ylang, Orange & Lemon essential oils) and Botanica (Lavender, Lemon & Lime essential oils):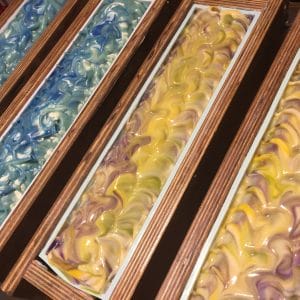 I now officially a yellow belt kickboxer!  I went through my first ever grading on Monday evening. I had no idea what to expect and it was intense – I arrived home bruised, exhausted and ravenous, but I absolutely loved it, and I'm ridiculously proud of my yellow belt: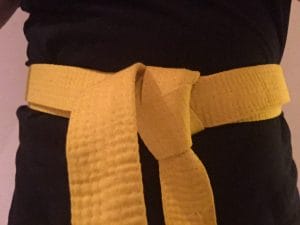 Orange belt, I'm coming for ya!!