So, Blogtober rolls on and, to be totally honest, here at the halfway point,  I'm suffering from a bit of blogging apathy.  I'm certain it's temporary, and I'm absolutely not giving up (are you cheering or groaning?? 😀 ) but I am glad that today is my usual weekly update day and I don't have to come up with something new!
Despite only having a few more weeks in which to squeeze in Christmas soap making, I only managed to make two double batches this week – Clarity & Tutti Frutti: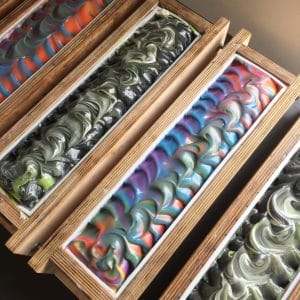 You probably won't remember that I made two batches of Clarity the week before too.  Unfortunately they proved, shall we say, problematic – the first one I cut had developed soda ash throughout the bar (or is it a partial gel?) which in a black bar is really ugly. How bad does this look?!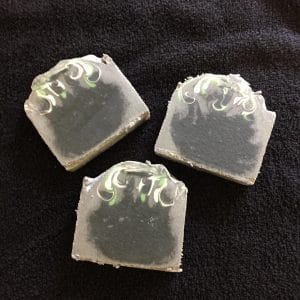 I've seen photos of this before, but never experienced it, and I was absolutely gutted – it's throughout BOTH loaves.  I had read that it could be because the oils & butters weren't completely transparent when I added the lye (ie too cold) – which is perfectly possible as I soap at room temperature, so for my second lot this week I made sure that the oil mixture was completely, utterly, thoroughly, melted… And the same thing happened again.  6kg of soap spoilt…  Gahh!!  I've ALWAYS made this the same way – nothing has changed. Anyway, I'll be upping the temps for the next batch and hope that that does the trick.
I released the Christmas soaps (Candy Cane, Frosted Christmas Tree & Warm Gingerbread) for pre-orders this week – they'll be ready by the 21st October and orders, both wholesale and retail, have started coming in…I KNOW it probably feels early to many of you but I got caught out last year – retail outlets wanted to stock Christmas items immediately after Halloween, so really, I'm only just ready…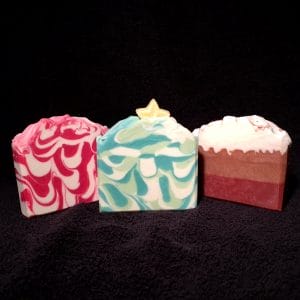 The rest of my time has been spent wrapping and labelling LOADS of bars for the *crosses fingers* Christmas rush.
Oh, and I think I have redesigned my labels.  I've not been totally happy with mine for the longest time, and I'm quite excited about the new look, but all will be revealed in due course.
Thanks for reading – I'll be back tomorrow, hopefully reinvigorated and ready for another fortnight of daily blogging!
Vickx