Monday and Tuesday of last week were the big soaping days – this was the result of Monday's session:
On Tuesday I was mostly speed (read: 'panic') making Christmas soaps.  I made a  load weeks ago, thinking I was really on the ball, but I wasn't happy with them.  AT ALL  🙁
I prevariacated for a while, conscious that time was getting on and that I needed to make a quick decision, and finally this last week I redesigned and made bars that I'm happy with – phew! They'll be released a little later than I'd hoped, but still in plenty of time for the holiday period.  I don't have any pictures yet, but I'll share the fragrances next week, and perhaps a photo or two the following week – maybe 😉  In the meatime, here's a sneaky peek that doesn't give too much away 😀
A brand new stockist came on board last week, Snowdonia Nurseries in Glan Conwy. They've taken a lovely range of soaps for their gift shop, and shared these photos with me over the weekend: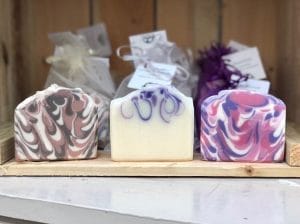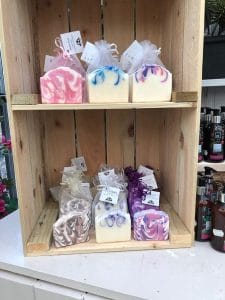 The next bit of excitement last week was the fact that my Cosmetic Product Safety Report finally came through from my solid conditioner bars.  It's illegal to sell any body care / cosmetic product in the UK (well, the EU actually) without one of these reports, which proves that your recipe has been checked by a qualified chemist and is safe to use. So although I've had them ready for a while, I've not been able to sell them until that report came through.  These are some of the ones I made during the formulating / testing process:
They'll be available in three varieties initially, to match the shampoo bars – Bergamot & Lime, Lemongrass & Spearmint and Unscented – but more varieties will be coming soon.  Now I just need to get making!  A few people have asked for more information about the ingredients etc so I'll be writing a dedicated post about the conditioner bars later on this week.
Lastly, I'm giving away a free mini Peppermint Scrub bar with all orders over £10 this week (while stocks last).  These are what's left over when I make the full size peppermint bars – I use the usual amount of soap mix but because there's so much extra stuff in there (ground apricot stone and oats) there's far too  much to fit my regular moulds and I have plenty left over to make these little ones – a little treat for my valued customers 🙂
Thanks for reading, back soon!
Vicki