Yorkshire puds. Those crispy, crunchy yet soft in the middle mopper-uppers of homemade gravy are the perfect accompaniment to a Sunday (or-any-otherday) Roast.  They're traditionally served with roast beef, but I'd be very unpopular in our house if I dared serve ANY type of roast without Yorkshire puddings.  Luckily I have the perfect, fail-safe recipe to guarantee golden crispy loveliness each and every time: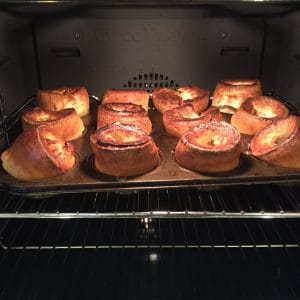 When I posted a few weeks ago that I'd made some Yorkshire Puddings, Sarah of Sas-Oki Soaps challenged me to post the recipe so that she could decide for herself whether it truly is foolproof, so here it is! I hope more of you will give it a try too.
To make 12 delicious Yorkshire Puddings you'll need:
150g plain  (all purpose) flour
300ml semi-skimmed milk
2 medium sized eggs
plenty of salt & pepper
lard (for cooking)
Pre-heat oven to 230c / fan 210c / gas 8
Whisk the two eggs into the milk, and season the flour well with the salt and pepper.
Slowly beat the eggy milk into the flour until it's all combined:
then pour it into a jug and let it sit for half an hour. (When I've been in a hurry I have made them without letting them sit for very long and not noticed much difference in the result, but I still  let it stand if I can):
After half an hour or so, put a generous knob of lard into each cavity of a 12 cavity muffin tin:
then place the tray into the preheated oven and let it get smoking hot. Really, REALLY hot.  Take the tray out of oven and place it on the hob, over some heat – the aim is to prevent the lard from cooling down before/while you pour the batter.
Pour the batter into each cavity of the tray, filling them about two thirds full.  If you have a little left over top up some of the cavities – it doesn't matter if some are fuller than others.  While your pouring you should see that the fat is so hot that the batter begins sizzling and bubbling immediately:
Pop the tray straight into the hot oven, and cook for approx 25 minutes, or until they're puffed up, brown and crispy. Keep an eye on their progress, they might take a little less time, they might take a little longer, but at this high temperature they could burn quite quickly if you leave them in too long.  Oh, and don't open the over door before the cooking time is up, or they'll collapse…
I took some snaps of my last lot every five minutes or so – apologies for the picture quality, the oven door doesn't make for a great window!
Serve as soon as possible after taking out of the oven: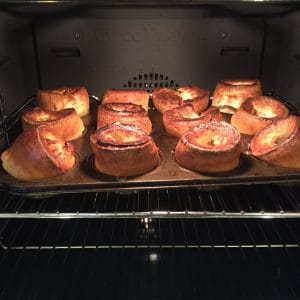 There – told you it was easy! There is absolutely NO excuse to buy ready made Yorkshire Puddings ever gain 😀