Happy Sunday everyone!  It's been a busy week, so I'll crack right on…
More Luscious Lavender and Welsh Rose were made this week. They're very popular, and I always like to have plenty in stock:
Both were cut, but I only got round to photographing the Lavender: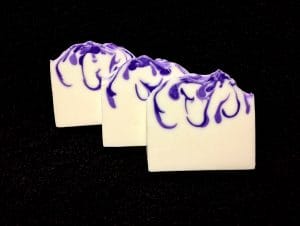 I also photographed the two custom batches I made last week. This pic, of Potters' Soap, proved to be my most liked ever on Instagram – so far! 😀
And this one is called Ar Lan y Môr (By the Sea):
I've spent quite a bit of time this week bevelling, packaging and labelling soap. It's almost half term and before I know it the tourist season will be upon us, so I'm getting ahead of the game:
This evening I had planned to masterbatch a load of oils for the next couple weeks of soapmaking but discovered at the last minute that I'd run out of Shea Butter. Arrghhh!!  I'm usually really careful to reorder as soon as I'm getting low of something so crucial. I didn't because I was sure I had more, but nope, it's nowhere to be found. So, first off I ordered more Shea, and then changed tack and made some Bath Bombs (or Bath Fizzies, or whatever it is I'm eventually going to call them – decisions decisions!!)
Before Christmas I got my assessment documentation through for 8 varieties of Bath Bomb (in the UK/EU it's illegal to sell any bath & body product without first paying to get your recipe assessed and approved by a qualified chemist), and tonight I made three of them – Welsh Rose, Clarity & First Kiss: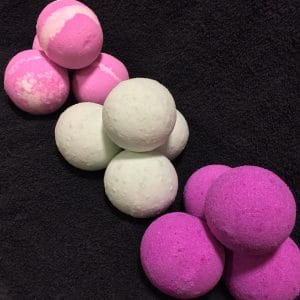 They're not 'perfect' looking, but they do what they're supposed to – gorgeously!!
Eventually I want to be able to provide matching Bath Bombs for each soap in my core range, but at the moment I can only sell the three above, plus Boho Baby (patchouli & orange),  Lavender, Bewitched (was Love Spell), Serenity and Oatmeal Milk & Honey.  I'm waiting on more colourants to arrive then I'll be making more (woo hoo!)
I had a bit of an interesting experience with Facebook this week.  I've neglected my page somewhat recently as, if I'm honest, it sometimes feels like a waste of time. The Facebook algorithm means that very few of my 'likers' actually see my posts, and consequently there is very little engagement.  Regardless, I decided that I should give it a go again, and wrote a post explaining why I hadn't posted for a while and that I would be grateful if people could occasionally like, comment or even (gasp!) share a post. Then I added the photo that had been so popular on Instagram  Well my friends, that post has gone bonkers!  165 likes, 54 comments and, and 47 shares at time of writing…
Soo…. I wonder if the same thing would work here?  May I ask you to click that little like button below?  Would you be amenable to writing a word or two to let me know you've been here?  Lol, I can but ask, hey??!  Thanks for reading, back soon.