Uh oh. I'm a day late posting again.  I should have written and shared this yesterday. I had plenty of time to do so, but I was resting a freshly sprained ankle and if I'm honest I was feeling totally unmotivated and a little sorry for myself.
But hey, today's a new day and I can just about hobble from one place to another, so that means it's getting better, right? Anyway, my positivity has returned. Woo hoo!
Last Monday was mostly spent doing paperwork and putting together orders, and I had to wait until Tuesday to get any soaping done.  Four loaves of Oatmeal, Milk & Honey  were the result:
I ran out of the darker brown, so two loaves were made with it, and two loaves without. This is a quick snap I took of the freshly cut bars, just to compare the two colourways.  I definitely prefer the version with the darker brown – what do you think?
I got some happy mail on Tuesday too.  I've long admired the talents of Hayley of Paintbox Soapworks on Instagram, and was thrilled when she agreed to a soap trade.  This gorgeous and generous selection is what she sent. I can't tell you how good it all smells,  and I can only hope that one day I can be as accomplished at the hot process technique:
Tuesday night (all night) was spent nursing a poor boy with an ear infection. I got very little sleep, and consequently very little got done on Wednesday. I spent the day in a fugue of tiredness, and pottered about the house doing the bare minimum. Luckily the little fella got some antibiotics and was soon on the mend.
Thursday was spent putting together an order for a brand new customer.  All these bars were packed up and dispatched to the wonderful Cwtchicoo, a fellow Welsh business which specialises in baby photography, props and luxurious blankets:
Thursday evening was a toughie. After a few hours of hard work I earned my purple striped belt in kickboxing, and went home battered, bruised and knackered, but happy  😀
Friday was spent in a state of mild anxiety if I'm honest. I was preparing to host my first  Bathbomb Making Workshop at the Glosters Creative Hub the following day. Although I was really looking forward to it, and I knew I would be fully prepared, you never really know how it's going to go.  I had to make sure that I had everything I needed for each attendee (ingredients, utensils & sundries such as disposable gloves/aprons etc) plus extra in case of last minute bookings. I also had to be sure that I knew exactly what I was going to cover theory-wise, that I knew what we were going to make, that handouts / recipes were prepared and printed, that my 'plan' for the three hours was doable… Lots to plan and consider and I used my usual method of mentally working through the whole session and making notes of requirements as I go along.  It was only after going through this process to the VERY end that I realised that I hadn't considered how the attendees were going to take home their bombs.  Boxes were swiftly found and packed!
Saturday morning I was up bright and early and off to run the workshop. Thankfully all the preparation paid off and it was a successful workshop.  There were five lovely ladies and an adorable four year old called Dexter: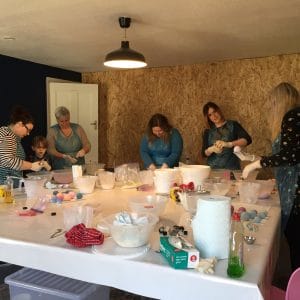 and look how well they did:
It was a great session, and the attendees all seemed to go home really happy.  I could have kicked myself that I hadn't thought to make up some feedback forms  to be completed before they left, but they're on the list for next time.
Afterwards, as I was loading the car, was when I tripped and sprained my ankle. Right in the middle of the street. Carelessness I guess.  A kind passer-by helped me load up the car and I managed to drive home somehow, but as soon as I took my boot off my ankle swelled right up and that was it – no more walking for the rest of the day, or the following one (Sunday) for that matter – it was incredibly sore.  By today (Monday) I'm able to weight-bear a little, so I'm hobbling and wobbling about painfully and hoping it continues to improve…
So yesterday was a total waste of a day – I relaxed a bit and read a bit, and generally felt sorry for myself. There were a couple of rays of sunshine though – one was my 4 year old writing me a little get-well note (that blob is a heart, apparently :-D)…
…and the second was finding out that I'd won an Instagram giveaway – the prize being something I've genuinely lusted after for quite a while.  It should arrive at some point this week so you'll have wait until my next update to see what it is – sorry! 😀
Thanks for reading!
Vickx