I normally try to get this weekly round up out on Sunday evening but yesterday was Mothering Sunday here in the UK and there was no way this was going to get written last night.  I had a lovely day actually – woken by very excited children at 7am and brought a card, flowers AND chocolate in bed.
A quick 5k run at 8.30 was followed by an extremely good breakfast at a local cafe Caffi Gwynant, a long walk in the hills:
and the day was rounded off with a roast dinner at home with my mum and her partner.  A glass of wine turned into a couple more, and while we managed to get the washing up done, writing wasn't really an option lol…
Anyway, I'm getting ahead of myself.  The week started, as it so often does these days, with a soapmaking session… Four loaves of Bewitched:
And I also made two loaves of Castile.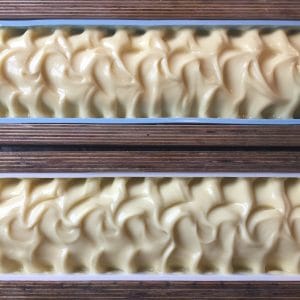 Castile  isn't one of my best sellers, but I have a small (and growing) group of return customers, so I always make sure it's in stock.
Unfortunately I don't have any photos worth sharing of the cut of these two yet, but here's a new photo of Bewitched from a batch that's just finished curing…
I sent out a couple of wholesale orders last week – one to the shop at Storiel in Bangor, and one to Siop Ogwen in Bethesda (which reminds me I really need to update my stockist list), and I also spent the best part of one whole day wrapping and labelling bathbombs…
On Thursday we woke up to an unexpected dump of snow, and soon after we got notification that the school was closed.  The kids were thrilled, me not so much – another day's work missed, but we baked a couple of Lemon Drizzle Cakes so it wasn't all bad 😀
Did you see my Happy Mail on Instagram or Twitter?  The super generous Terry of Oldways Soap agreed to trade soap with me, and this is what our postie delivered last week:
Aren't they gorgeous?  Five varieties of soap (one of which has already joined me in the shower) PLUS a bunny each for the children (who were utterly thrilled – far more than they ever are with any of my bars lol…)  Terry is an expert at the Hot Process method (which I tried for the first time a couple of weeks ago) and she's given me some hints and tips for my next batch which I'm looking forward to putting into practice soon.
So other than sending out the usual stream of retail orders for soap and bathbombs, that was my week.  This coming week is going to be very busy – I have a bathbomb making workshop on Saturday morning, and then a craft fair on Sunday, both of which I need to prep for.  I also have a few wholesale orders to get out this week, I'm making soap tomorrow (Tues) for a change, I have a networking meeting on Wednesday morning, AND my grading for my next kickboxing belt is on Thursday.  Plenty to write about next week lol…
Thanks for reading, back soon!
Vickx