Last night I had the niggling feeling that I should be doing something.  I wouldn't come to me though, so we spent the evening binge watching Better Call Saul (have you seen it yet?  I LOVED Breaking Bad, but didn't think much to the idea of a spin off so avoided it despite Netflix's best attempts at drawing me in. Given that it has the same writers, producers and directors I really should have known better, but there we go – Netflix 1, Me 0  Mind you, it has tried to foist some real doozies on me recently – the new Lost in Space remake for one – arrghhh!  Anyhow, within three seconds of waking up this morning I remembered just what it was I should have been doing last night – writing this…  Guess I'm not quite as firmly back in the saddle as I thought I might be ;-D  Now, clearly I realise that  nobody is out there desperately refreshing their screen in the hope that a new post from me will pop up, I'd like to maintain some form of regularity, so I apologise!
Well then, what's been happening in my soapy world over the last week? On Monday I sent out orders that had come in over the weekend, and Tuesday was spent wrapping and labelling. Again.  I don't think I realised when I decided to turn my hobby into a business that, while I would get to make a lot of soap, I would also have to wrap and label a lot more soap too.  Ah well, at least I'm not sweeping chimneys!
On Wednesday I had my first big soaping session in about three weeks.  I stocked up on Serenity (patchouli, ylang ylang, lemon & sweet orange essential oils) and Bewitched (a dupe of the 'Love Spell' designer perfume), 120 bars in total:
Thursday was another day of non-stop wrapping and labelling, oh, and a little bit of photography.  I'm still trying to get good shots for my website, and I quite like this one of Traeth Craig Du (Black Rock Sands):
On Friday I cut the batches that I'd made on Wednesday.  I took a very quick snap of them just cut, so forgive their rather tatty appearance.  I also got a touch of partial gel in the Serenity, which hasn't happened before – I'm trusting they'll look fine once they've been tidied up and bevelled: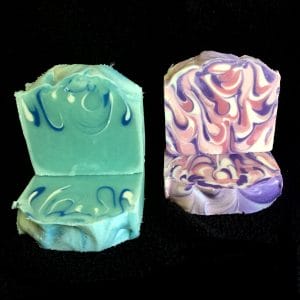 In the afternoon I donned my science coat (not really) and made a few more batches of emulsified sugar scrub. It's one of the things I've been working on whenever I have a spare half day, and I have to say I absolutely love this stuff. I've whittled my recipe down to three options, and I'm hoping I can finalise the recipe soon.  I have so many things I want to launch this year, but at the very least there'll be cold process shampoo bars and these sugar scrubs (fragranced with mandarin essential oil in this case) :
So that was it – my work week in soap.  This coming week is going to see more soap being made, including shampoo bars, and more work on the sugar scrubs. I'm hoping to be able to send off for my scrub assessments sooner rather than later (as they can take a good few weeks to get done) and in the meantime I'll have to think about labelling.
Have a great week everyone, and if you're in the UK, what about this weather eh?  Absolutely glorious, although it does mean watering my hanging baskets a lot more often than I'm used to!
Thanks for reading – back soon!