Relaxing. It's not something I'd normally be doing much of in the run up to the holiday period. This is usually my busiest time of year – the two months during which I attend innumerable Christmas fairs and sell shedloads of soap. But not this year. The building work on the house as made soapmaking difficult, and I realised at the beginning of October that there was no way I would be able to keep stock levels anywhere near as high as they needed to be for the Christmas rush. I made the difficult decision to cancel all my seasonal fairs, and will only be attending my usual monthly craft fair in Porthmadog on the 26th November and 17th December.
I'm still working though. I still have my wholesale customers to keep stocked, and my wonderful local customers who'll be knocking on my door looking for last minute gifts (if last year is anything to go by :-D) and so the soapmaking continues, just on a much smaller scale.
This are last week's makes: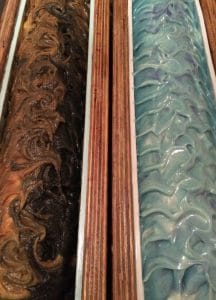 I've been asked a few times now for a sandalwood soap, so I finally made one (on the left) and the one on the right is a restock of Serenity (fragranced with patchouli, ylang ylang, orange and lemon essential oils).
The sandalwood moved REALLY quickly and nixed my regular drop swirl.  I was pretty sure I'd created something pretty fugly, but you know, it's ok:
Here it is just cut, still needing to be bevelled and cleaned up. It's really not so bad and I'm happy.
So apart from wrapping and labelling my holiday bars and gift sets and some gentle soapmaking I'm really not that busy at the moment.  It's rather nice 🙂