As winter inexorably approaches, the tourist season here has more or less come to an end for the year.  The only visitors we'll see for the next few months will be hardy, well wrapped walker and mountain climbers, and many of the gift shops have closed or drastically reduced their opening hours while the owners take a well earned rest.  A good time, then, for me to take stock and consider what sold well during this last year.  It's clear to me (and it's no real surprise) that the bars which sold the best here in the village were those with a Welsh element to their name (eg Welsh Rose and Blodau (Flowers)) or a link to the local area (eg Black Rock Sands and Traeth Criccieth (Criccieth Beach)).
I've decided that there needs to be a few additions to the regular range – soaps which reference the local area – and the first of those will be Yr Wyddfa, our name for Snowdon, the highest mountain in England & Wales.  Yr Wyddfa has always been close to my heart. As I child I lived literally at the foot of this majestic mountain, and now I live just 10 minutes away from the bottom of 4 different routes up (depending on which direction I drive). I've walked (and run, with a team of women, carrying (an occupied!) wheelchair – but that's another story :-D) to the top many times, but I've never taken the train up… Anyway, I digress…
On Tuesday night I made my first attempt.  Even while it was still in the mould I knew that there were things I would do differently next time:
See that blue on the top? That's supposed to represent the sky, but sadly it's the wrong shade of blue. Easily fixed – next time…
And the cut: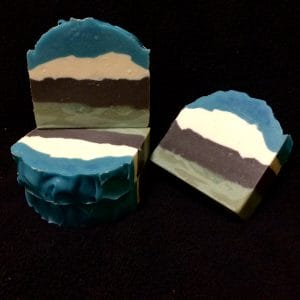 Clearly I've not gone with one of my regular drop swirls here –  I've gone a little more literal, with greenery (two colours of green), rock, snowy mountain top and sky.  I need to alter the colours of the rock and the sky, and perhaps have a little more greenery than rock, but I'm really happy with it as a first attempt.