This is the core range of soaps.  Each bar retails at £4.50, please contact me for wholesale prices.  I have two main core ranges – soap fragranced with pure essential oils only, and soap made with fragrance oils.
Each bar weighs minimum of 100g, but in reality most are around the 110 – 120g mark.
Please be aware that as these are handmade items and no two bars will look alike. Fragrances will remain constant, but designs may vary slightly from bar to bar.
Essential Oil Soaps
Clarity
Fragranced with Lemongrass and Clary Sage essential oils, Clarity is a real unisex fragrance, and one of my best sellers.
Blodau
A feminine, floral scent comprising of a blend of Lavender, Ylang Ylang and Rosewood essential oils.
Botanica
The newest variety in the essential oil range, Botanica is fragranced with a gorgeous blend of Lavender, Lemon and Lime essential oils. A fresh scent, reminiscent of summer days.
Luscious Lavender
Simply fragranced with pure Lavender essential oil, loved by all ages.
Serenity
'The one that smells like a spa'. That's how customers describe Serenity, and with good reason – the heady blend of Patchouli, Lemon, Orange and Ylang Ylang essential oils will have you relaxed in no time.
Peppermint Scrub
Fragranced with pure Peppermint essential oil, and chock full of oatmeal (to soothe) and ground apricot stones (to scrub),  this soap is PERFECT for gardeners or mechanics who might need a bit of extra oomph to get their hands clean. Also great for feet which need  a little attention before sandal season!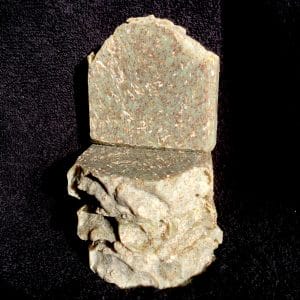 Fragrance Oil Soaps
Sugar Drops
A sweet,  warm, caramel, vanilla fragrance, reminiscent of Aquolina's Pink Sugar designer perfume.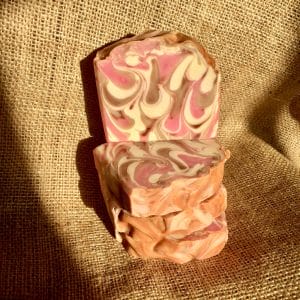 Bewitched
A fruity, floral fragrance with notes of peach, cherry blossom and white jasmine. Reminscent of Victoria Secret's Love Spell perfume.
Oatmeal, Milk & Honey (OMH)
The ultimate comforting scent, OMH has strong almond notes with honey and creamy oats.
Tutti Frutti
Tutti Frutti is fragranced with a juicy jellybeans scent. Loved by children and adults alike.
Welsh Rose
A classic fragrance, the luscious scent of fresh rose petals.
Locally Themed Soaps
Eryri (Snowdonia)
A stylised representation of the hills and mountains of Snowdonia, under blue skies and whispy white clouds.  It's fragranced with my own blend of pure essential oils, including rosemary, peppermint, lime, patchouli and a touch of eucalyptus, which give a fresh, outdoorsy scent to the bar:
Traeth Craig Du (Black Rock Sands)
As well as the mountains, Snowdonia has plenty of coastline and beaches too.  Traeth Craig Du is named after the beach closest to where the soaps are made – Black Rock Sands.  It's scented with a marine, sea-salty fragrance, with hints of ozone and salt encrusted driftwood.  The bottom third of the bar contains ground apricot stone, to replicate the exfoliating benefits one gets from walking barefoot on sand: