A day late, but better late than never eh? Anyway, this weekly update will be super-short.   The kids are off school for the Easter break, and I have even less time than usual to get all the things done…
I only managed one night of soaping in the last week – I made double batches of Boho Baby and OMH. I tried using a mica called 'Arctic White' instead of Titanium Dioxide for the white portion of the OMH, and I really wish I hadn't, but hey ho, it's good to try something different occasionally (shan't be trying that one again though!):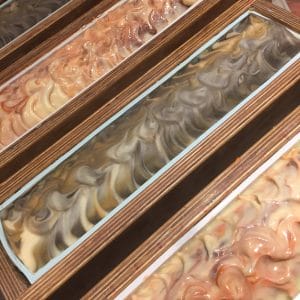 Last week I  also managed to hastily put together a post outlining the core range of soaps.  It's a poor substitute for a website, but at least now when I'm asked what I have it's all listed in one place and I can just send a link.  It has however highlighted the fact that I need to do some work on product descriptions and on photography (though luckily my husband just bought a DSLR camera so that might happen soon) before I launch the website.
The second bit of news is that I made facial soap – finally! It was on the goals lists for the last two months and while I've been working on the recipe for quite a while, I just never got round to actually making it.  I put a lot of research into this one, and while it's colour and fragrance free,  it's chock full of some other amazing ingredients. I'll post separately about it soon.
Now I'm (kind of) back on track goals wise, I should be thinking about April's goals but you know what?  We're already 10 days in and I've got 14 days of school holidays to get through – I'm cutting myself some slack and not setting goals for April.  I'll just keep on building inventory (starting to feel a little more comfortable with the numbers on the rack now), wrapping / labelling, fulfilling orders and doing my weekly soapy presentation / monthly market.
Thanks for reading, back soon!