Last week I set myself a challenge to make a minimum of 600 bars of soap in seven days with today (Sunday) being the last day.   As well as trying to restock after a busy summer season and getting ahead for the festive season, I have a new wholesale customer who has placed a very large (for me) order that I'm steadily, but surely, fulfilling (I'll share more about them once the first shipment has been delivered in a couple of weeks) and all that means I need to increase my rate of production.  This week was a bit of an experiment in masterbatching larger amounts of oils & butters and working out how to work smarter and be more productive. That 600 bars was a fairly arbitrary goal – more than I'd ever made in one week before, but  hopefully doable given my proposed new processes.
In the past, each soaping session has begun with the mixing of the lye solutions – usually enough for 8 loaves in four separate containers, which were put to one side to cool. I'd then weigh out four separate lots of hard oils & butters and melt them while also weighing out four lots of the liquid oils, ending up with four 5kg capacity buckets each containing enough prepared fats for two loaves (30 bars total) of soap.  I would then go ahead and make soap, ending up with two loaves of four different varieties, giving me a total of 120 bars each full soaping session.
This week I decided to get all the oils / butters / lye prepared the night before production, and also to make more, and bigger (four loaf) batches. This gave me far more time the following day to make soap and I was able to get this lovely lot, a total of 632 bars (woop!!) made over three separate days: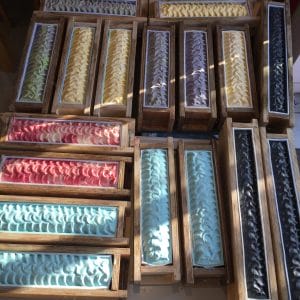 So what about temperatures? I read a lot in online soaping groups that temperatures are important in the soapmaking process, but I haven't used a thermometer since my very early days of soapy experimentation.  I generally soap cool anyway, so using lye solution that was mixed the day before isn't an issue, and I found that I needed to sit the buckets of oils & butters in some hot water in the sink for a little while to remove any granularity from the cooled hard oils. I dream of having a large insulated tank with a heating band in the future, but until then, this works really well – hooray!
Next week I aim to make as much, if not more, again. Keep rooting for me 😀
Thanks for reading, back soon!
Vicki
PS Thought I'd share this little vase of nasturtiums, freshly picked from the garden today. I have a mass of them at the bottom of the garden where they've self seeded and they just keep on coming, in beautiful autumnal colours. Just lovely!