This is going to be a quick post – I haven't made any soap this week, but it's been a busy week for wholesale and guest bar orders, so most of my time has been spent putting them together.
Wedesday was the exception to the regular routine, and I spent the morning at my monthly networking group, telling them all about my business.  I've done so many soapmaking demonstrations and talks, but I've never had to speak to a room of business people people about MY business. About my struggles and successes, and future development and growth.  I was a little nervous to begin with, but soon warmed up, and I even made some sales, which is  always a bonus!  I joined the group  back in January, and although time constraints have meant that I haven't been able to attend every meet-up, I'm really beginning to really appreciate the benefits of being a member.  There was a time, not so long ago, when I would have been rather dismissive of this kind of group. And all the more so because it's called 'Women Working Together'.  But to be honest the idea of networking was a little daunting, and I'd heard some horror stories of pushy men practicing their sales patter on unsuspecting newbies at networking events.  So, I decided to give this group a whirl, and I'm so glad I did.  I was welcomed from the beginning, and the advice and support I get from other members, who have far more experience of growing businesses, is invaluable.
I'm really short of soapy pics to share with you this week, but here are a couple of the guest bars that I put together for one of my holiday home orders.  These particular ones were for a gorgeous cottage on the Lleyn Peninsula (well worth checking out if you ever fancy a break in this neck of the woods!)
I've got some new ceramic soap dishes on the way, made by my talented friend Helen of the Snowdonia Blue Slate Pottery.  These are so beautiful, and sell well as part of sets.
And here, just for you, is the very first look at how I'm proposing to package my new facial bars when I launch next month:
There'll be a tag on the ties (as I have now) and a stamp on the bag with my logo – that's the plan anyway.
Oh, and I've finally taken the plunge and signed up for a card reader, so that I can take card payments at fairs and markets. I don't think that not having one has caused me to Iose an awful lot of sales in the past, but I know I have lost some.  People who say they'll come back later when they've been to the cash-point, but they never do.  Perhaps they never meant to do so, but who knows?
Over on Instagram, this was my best performing post of the week – a #throwbackthursday collection of discontinued bars. I still love the all-blues one, and I'm thinking of using that colour scheme to make a nice 'ice blue' themed bar for next Christmas:
And this one was my favourite IG post of the week, purely because it combines my two passions of soapmaking and books – a selection of my favourite soaping books. How many of these do you have?  I'm open to recommendations too 😉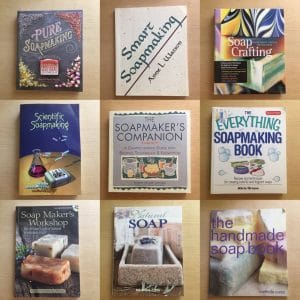 On a personal note, this week saw the first harvest from the garden – a cucumber and two (TWO lol) beans. This was taken at the beginning of the week, and there have been a further two cucumbers since. Fortunate, as my son absolutely loves them!
This weekend has been pretty active, with an early morning walk with my friend yesterday (Saturday) morning. The sun shone, the birds sang, and I got home in time for breakfast feeling, dare I say it, awesome!!
And then today (Sunday) my husband and I took the children on a walk up into the mountains, to a hidden lake called Llyn (Lake) Idwal:
Kind of an incongruous place to find a beach, but a beach it certainly is – there were even a couple of swimmers.  We had a bit of a paddle, and the kids did a load of rock climbing, before we headed back down and home just in time for dinner. My kind of day 😉
Thanks for reading!