Last week was a pretty quiet one on the making front. On Tuesday evening I made three batches – Luscious Lavender, Yr Wyddfa (Snowdon) & Blodau (Flowers):
The Lavender restock has a slight twist as I'd run out of one of my micas and had to improvise. I'll share a picture very soon – I did take one of the cut but I seem to have deleted it – gah!
I shared the cut and the story behind Yr Wyddfa in this post last week.
And this is the cut of 'Blodau'.  Blodau is Welsh for 'flowers', and the fragrance is a lovely blend of lavender and ylang ylang essential oils, balanced with a touch of rosewood  to give depth. Please forgive the rough and ready appearance – this was taken five minutes after it was cut:
Much of the week was spent preparing for the Porthmadog craft fair on Saturday. This is the only regular market/fair that I do. I could easily do more – I'm often asked – but to be honest I started this business to be able to work from home, and spend more time with the family, so I'm really not inclined to spend every weekend away from them.  Nevertheless I do happily join my crafty family on the last Saturday of every month, and I get a lot of pleasure from catching up with my fellow stallholders and regular (and new!) customers.
The Dinosoaps proved to be very popular (this was the basket I transported them in by the way, they weren't displayed like that!)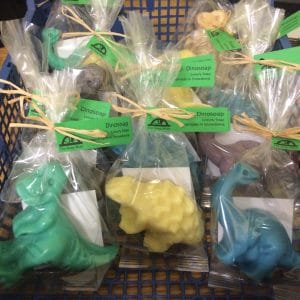 The other soapy highlight of the week was a fabulous mica delivery from the awesome U-MakeitUp in Spain:
This was the second lot I've ordered from them, and I'm so impressed with their range of colours and great customer service. This was the first selection I received, a few months back:
Lots and LOTS of colours to play with!
In other news, this week the children wrote their letters to Santa, and I made a start on the Christmas shopping. This coming weekend we head down to south Wales for the weekend to visit my husband's family, so we need to have all their Christmas gifts wrapped and ready to take with us.
I'll leave you with this view from my office window last Saturday morning, 8am, just after loading up the car for the fair – gorgeously clear and crisp.