I have at least 6 draft posts half written, but somehow it's got round to Sunday again and I've not managed to even think about finishing any of them…
It has, however, been a busy week… I've been busy wrapping and labelling the bars for the shop in Didsbury, all 150 of them.  It's a big order for me, but I've got a week or two to get it all together.
On Thursday I agreed to supply a local guest house with soap on an ongoing basis. It's self catering accommodation, and they want to leave both full sized and mini bars for their guests.  The first lot of regular bars has been delivered, and this coming week will see me cutting and wrapping the mini sized bars for delivery before the weekend.
I've made another five batches this week, three on Monday – First Kiss, Love Spell & Peace:
That little heart was added for Instagram as a nod to Valentine's Day, as I didn't get around to making any Valentine's specials this year.
And two batches of Tutti Frutti on Friday – I've been waiting on more fragrance oil for this one for quite a while, and I'm nearly sold out, so I got a couple of batches done at once.
The colours on the top of the finished batches look a little muddy, but I'm hopeful it'll be fine inside *crosses fingers*
And tonight I made more bathbombs – I literally finished cleaning up 10 minutes ago, so these are very rough and ready photos, but you get the first peek:
Bewitched: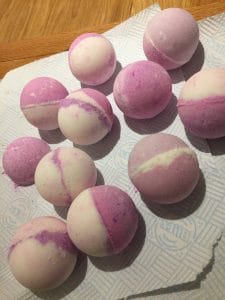 I've not managed to take many soapy photos this week, but here's the Blodau (Flowers) bar from last week:
The kids are off school for half term this coming week, so it'll be interesting to see how much I get done (especially as we go away on Friday for a couple of nights) but hopefully I'll get an update out on Sunday at the very least :-/