I had three goals for September:
Website
Christmas Soaps
8-10 blog posts
Website
I've made a lot of progress, but it's still not there. I'm really been struggling to find the time to sit down and focus on getting it ready for launch (just see yesterday's post for how busy I was last week) but I can't fret too much about it, I just need to keep going. It'll get there.
Christmas Soaps
YES! 60 bars each of Candy Cane, Frosted Christmas Tree and Warm Gingerbread made last month.  Last year I only made 30 bars of each, which wasn't quite enough, so I was aiming to double that this year – boom! BUT there's been so much interest thus far that I've decided to go for 90 bars of each. It's a bit of a leap of faith, but considering the big Christmas fair I have the first weekend in December, I'd rather have too many than not enough.  I'm lucky that I started making them early enough that it won't be a problem to make more during the next couple of weeks and still have them ready for the start of the festive season.
I still haven't taken 'proper' photographs of these three, but this is what I do have so far in case you've not seen them yet: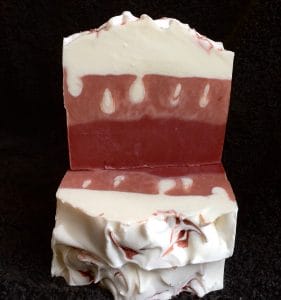 Publish 8-10 Blog Posts
I published 7 posts last month.  Didn't quite hit my target, but, if I'm completely honest, I was holding back a little, knowing that I would be trying to post 31 times this month.  There were a few times I thought, "Ooh, that would make a good blog post" and then immediately thought "Ah, no, I should save that for next month…"  Basically self-sabotage, ha!!
Back tomorrow with my goals for October – no prizes for guessing what at least two of them will be 😀