Blogtober 2021 – Day 15
I LOVE good smells. I've always been the one who has to sniff every variety of whatever's on offer, and of course as a soapmaker, fragrance plays a huge part in my daily life. Not everybody feels the same though, and over the years I was often asked whether I offered a fragrance-free soap. It surprised me, actually, how regularly the subject came up. For a long time the only unscented soap I could offer those customers was Castile. Castile – pure olive oil soap – is a wonderfully gentle and mild bar but it doesn't have the fluffy, abundant lather of my regular bars. Finally, last year, I decided to create a fragrance-free bar with that same fabulous lather.
That was was when Purity (Purdeb in Welsh) was born. I chose to make it uncoloured as well as fragrance free, and while I love my fragrances and colours, there is definitely something beautiful about a plain white bar in all it's glory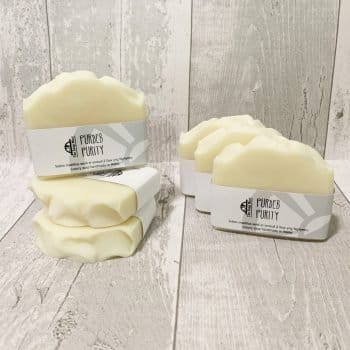 Purity proved to be a popular choice as soon as it was launched. It seemed to make sense to create a new category on the website for all the uncoloured/fragrance free options, and so the Purity range was created. If you're not a fan of fragrance for whatever reason, you can now find fragrance-free soaps, solid shampoo, solid conditioner and a facial bar all in one place on the website.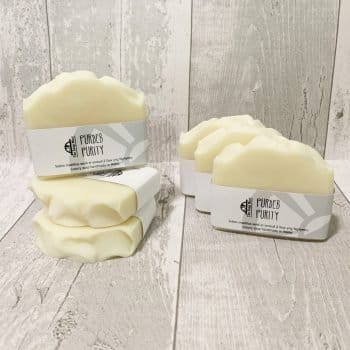 Thanks for reading, back tomorrow when I'll be halfway through Blogtober! Hooray 😀