Blogtober 2021 – Day 10
My number one bestselling soap is Eryri, the landscape soap: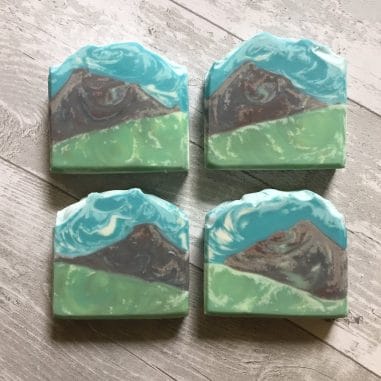 I'm pretty rubbish with technology, but I've been asked so many times to record some videos of my soapmaking I thought I ought to give it a go, and this video shows me pouring and sculpting Eryri. Some people use scrapers to ensure that all the bars are uniform in design, but I sculpt my layers freehand, so no two bars are ever the same. I like them that way 😉
I always make this in batches of six loaves (90 bars), but you only see five in the video – the sixth was just out of shot.
I don't think there's much else to say about this one, but if you have any questions just pop them in the comments below and I'll respond asap.
Thanks for reading (and watching). I'll be back tomorrow with Day 11.