My hands-down-most-popular summer special last year was my Lemon Verbena Confetti, so obviously I had to make it again this year. It has a white base colour, is crammed with multi-coloured soap shavings and is fragranced with an amazing smelling Lemon Verbena fragrance oil. I LOVE lemon verbena – it's fresh, crisp and citrussy with herbaceous notes, but sadly, this particular lemon verbena fragrance does NOT behave itself in cold process soap.
I knew from my experience using last year that it was a fast mover, so I thought I was well prepared this time. The soap shavings were ready to go, the oils and lye were at room temperature, I didn't discount the water, and was prepared to work quickly. It wasn't enough…
I added my titanium dioxide AND the Lemon Verbena FO to to my oils, added the lye water and KAPOW! it solidified immediately. I refused to be beaten. I splodged the stick blender in and loosened it up a bit before adding all the soap shavings. How much soap shavings you use is entirely up to you – I don't measure it out, I just mix in more and more until it looks like enough <not helpful sorry>:
I mixed as far as I could with a spoon but in the end I had to plunge in my (gloved!!) hands to give it a thorough mix. It was the only way to get everything properly combined without breaking up all the soap shreds with the blender. I also used my hands to get the whole lot into the the moulds (one benefit of making confetti soap – two batches with added confetti makes enough soap to fill three moulds – yey!)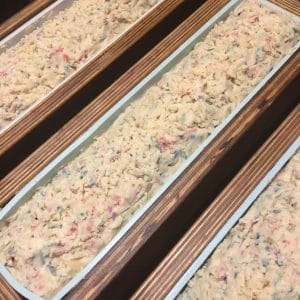 It was only then that I realised that one of my gloves had split and I had the beginnings of a lye burn on the end of one of my fingers – ouch 🙁
Two days later I unmoulded and cut, and the result wasn't too shabby: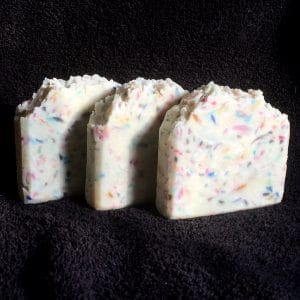 It has a few small air holes here and there, trapped during the mould filling, but it's pretty good, considering!
Incidentally, the company from whom I bought this FO claim on their website that it causes no acceleration in CP soap, but when I asked in a FB group whether anyone else had had an issue with this particular FO, it seems to be fairly common. Ah well, forewarned is forearmed eh?!