The theme for this year is 'Let it Snow', for what are, I hope, obvious reasons. There are five different fragrances to enjoy:
Sugar Plum
Fruity and warm, this fragrance combines berries, orange and cherries with a hint of vanilla and sugar:
Candy Cane
Back for a third year, this fragrance has proved so popular in the past that I couldn't NOT bring it back.  It's a delicious blend of buttery peppermint and sugary vanilla – do not eat!! 😀
Snow Queen
I've never made a blue Christmas soap before and with a color like this I couldn't resist a Frozen reference.  The fragrance is a complex blend combining herbal and fruity top notes, middle notes of jasmine, cinnamon and clove and base notes of amber and patchouli. It's a really difficult scent to describe but it's heady and exotic and perfect if you're looking for something a little less traditional.
Warm Gingerbread
Back for its second year, this fragrance is absolutely gorgeous and proved hugely popular last year. Ginger and cinnamon, vanilla and freshly baked cake give a warm, comforting scent perfect for winter days.
Spiced Orange
A strong, rich and spicy orange and cinnamon blend, heartwarming and cosy.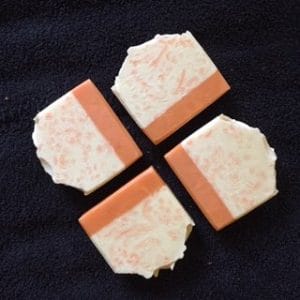 All available from week commencing 11th November. Pre-orders being taken now, £4.50 each.